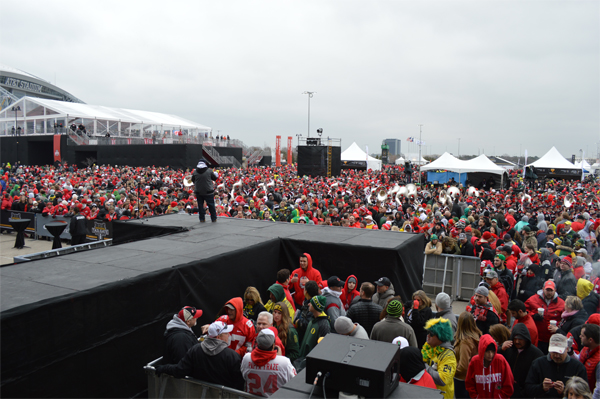 Staging Rentals in a Post-Pandemic World
Advice from a staging professional to event planners
Hello event professionals – what a year it's been! If you've successfully pivoted and managed to stay in our industry, then our hat is off to you. Here at Texas Stage Rental (and our parent company, In Depth Events) we took on new business in 2020 by handling different kinds of events and expanding our products to our existing clients. Now that the production world is starting to come back again, there are some major changes to how we do business in professional staging. Hopefully, this blog will guide you through these changes, and help you with your future events.
Book your staging rentals early
The pandemic closed the doors to a lot of staging companies. Those of us that were able to weather the storm and continue answering our phones are starting to get very busy for summer and fall 2021, and 2022 looks like it's going to be even bigger. The takeaway? Book your staging and production needs early. Even if your client is not sure of the date of their event, or the venue is not completely locked down – call your vendor and let them know your plans. The days of the last minute stage rental are over – at least for now.
Double-check pricing before telling a client how much it's "always been"
You know how much a stage costs, right? Wrong. Everyone's pricing structure is different now, and you can't rely on pricing from pre-pandemic invoices. As a staging professional, I can tell you that our costs have changed and those are going to be passed on to the end client. Avoid nasty pricing surprises by calling your vendors to check pricing before quoting to an end client.
Social distancing applies to staging and production rentals
The pandemic has changed what people call their "personal space". People are simply not going to be comfortable in crowded spaces for the next few years. This means that the available space on dance floors, stages, seating risers, and audience risers will have to increase to accommodate the same number of people. While people won't be sitting 6 feet away from each other, they won't be comfortable sharing an armrest either. Ask your staging professional what the latest trends are in needed spacing, and make sure to budget for it.
We hope you've enjoyed this blog post and look forward to seeing you on show site soon! Make sure and contact us for questions about your next staging rental. Stay safe!