Static Round Stages and Turntable Stages are a great way to showcase your product or talent. Static Round Stages allow for a unique circular stage that people can walk all the way around. A Turntable Stage allows for that beautiful circular design and turns itself for your audience to view the product or talent from any single location. Both types of stages can be customized to fit your event needs.
What is a Static Round Stage?
A Static Round Stage is a circular stage that provides a great presentation of your product or talent. They can easily hold the weight of an automobile but cannot turn. Static Round Stages are generally used for theater in the round, product launches or as an addition to another stage.
Static Round Stages can be customized by changing the size, shape, and height. These stages can be split into separate pieces allowing for one side to be higher than the other. They can be covered with skirting, colored carpet, acrylic, hardwood flooring, or can be lit. Our Static Round Stages generally come in dimensions of 10 feet (such as 10 feet, 20 feet, 30 feet, ect) but can be customized to different dimensions if needed.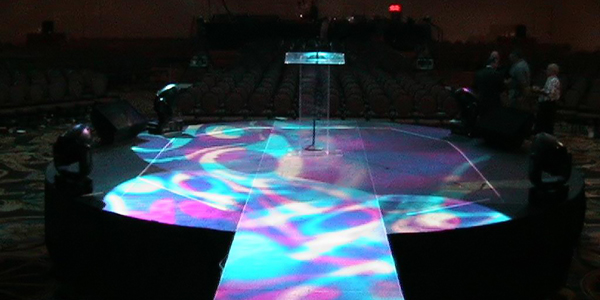 What is a Turntable Stage?
Turntable Stages are round stages that revolve allowing your audience to view your project or talent in their entirety from one stationary spot. These types of stages can withhold the weight of an automobile and still rotate with ease. Turntable Stages are wonderful for product launches or attracting attention to your talent.
Turntable Stages can be built into existing stages, added on top on an existing stage, or can stand alone. This type of stage can be customized by adding colored carpet, skirting, or hardwood flooring. Turntable Stages generally come in dimensions of 10 feet (such as 10 feet, 20 feet, 30 feet, ect) but can be customized if necessary. Customizing to any other dimensions can be accomplished, but can be expensive. Any Turntable Stage over 12 inches tall must be built in two separate pieces, the 12-inch Turntable Stage with a Static Round Stage measuring the remaining desired height.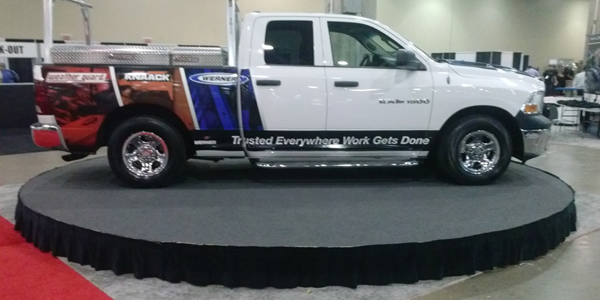 When selecting a Turntable Stage there are multiple factors you must consider such as revolution speed, reversibility, and ability to connect to power. Our Turntable Stages are set at 1 revolution per minute, but we can provide variable speed Turntable Stages. If on stage power is needed, we specialize in providing a slip ring that allows for two circuits to be connected to power on the surface of the stage. The slip ring allows for power connection without tangling or damaging the cords during rotation.
Why Should You Use Us for Static Round Stages or a Turntable Stages at Your Next Event?
Here at Texas Stage Rental, we specialize in custom staging with on site carpenters and welders. This allows us to create the perfect stage customized for your event. We are also one of the only staging companies that can provide you with a slip ring for your Turntable Stage. Texas Stage Rental has a dedicated and professional staff that are ready to help every step of the way.
For more information about our services or to get a quote please visit our contact page. We look forward to hearing from you and working with you!