If you are looking to add extra excitement to your event, a rental Boxing Ring added to your stage is a great way to do so. Imagine your team building activities, dance battles, or motivational speakers inside this unique stage choice. This dramatic set design can be a real conversation starter.  
How is our rental Boxing Ring Stage built?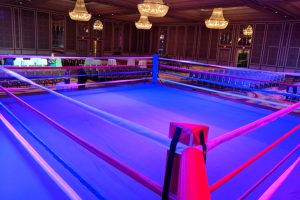 Adding a rental Boxing Ring to staging for your next event draws a lot of excitement and attention to your event. This feature can be added to any 28'X28' stage on any type of surface. A rental Boxing Ring Stage fits perfectly in ballrooms, convention centers, and schools.
Our rental Boxing Ring Stage is built by placing the Boxing Ring on top of a stage. We build the stage underneath using 4'X4' Bil-Jax staging pieces that are supported by steel legs. After the stage is constructed we secure the Boxing Ring to the top and add skirting to cover the legs of the stage.
Our rental Boxing Ring is a 20'X20" Olympic sized regulation boxing ring. It is a real ring, not a set! It contains four ropes: two white, one red, and one blue. With notice we can provide custom colored ropes, canvas, and padding for the Boxing Ring.
Why should you use us for a Boxing Ring at your next event?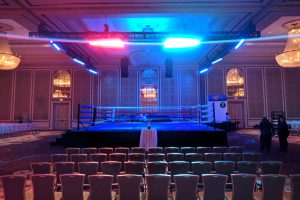 Texas Stage Rental is dedicated to working with clients to create fun, memorable, and safe events. Our owners have been in the industry for over 25 years and continue to find ways to make each event unique. We realize how important the safety of your staff, performers, or speakers are and always build our stages under ADA guidelines.
For more information about our services or to get a quote, please ask us a question. We look forward to hearing from you and working with you!